A school with classes in English
British School of Aragon in English
More than 10,150 hours in English

in their educational stage 

90% of classes in English

in Infant and native teachers 

Official certificates :

6th EP: A2 / 2nd ESO: B1 / 4th ESO: B2 1st Baccalaureate: C1 / 2nd Baccalaureate: C2 

Language immersion programs

and exchanges with the US, Canada and the UK 
Bilingual Education
We are the only Infant education centre in Zaragoza with 100% native English teachers.
For over 45 years now, The British School of Aragon has been a pioneer in bilingual education. Receiving an education in several languages prepares students well for our increasingly global and international world. In this respect, English is the language that opens most doors in the workplac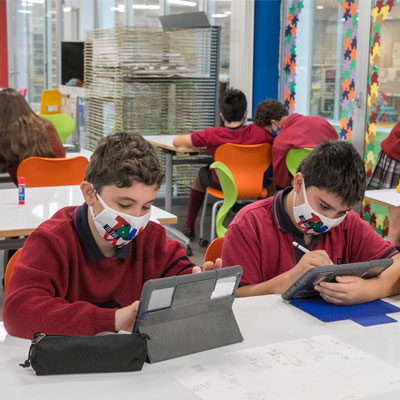 Classes in English
And that is why The British School is equipped to teach classes in English from the very moment your child begins to speak, at just over one year old. Our students receive all their education in English until they are 5 years old, with the exception of Spanish classes, naturally.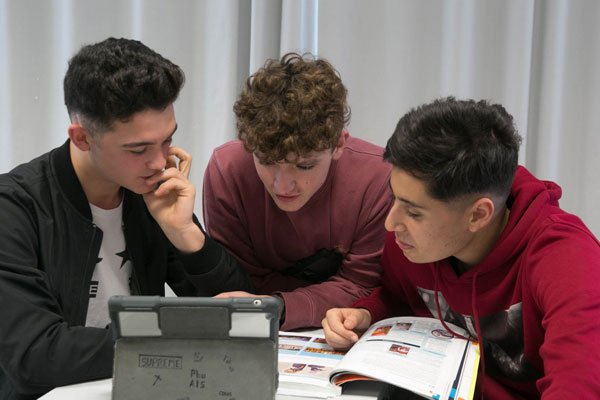 At the age of 6, students at The British School have a very solid base in English, which they come to perfect throughout their time at the school. In total, our students receive more than 10,000 hours of classes in English throughout their schooling.
Through the University of Cambridge, the School prepares students to sit the different official exams in English.
Students can sit the official exams from the 2nd year in primary education onwards. In the 6th year of primary school, students take the A2 exam; in recent years the pass rate has been 100%. In the 4th year of secondary education, students take the B2 exam, in which the pass rate is also 100%.
And in sixth form, students are able to take C1 and even C2 exams.
And going beyond the classroom, the School works to further improve students' language skills and give them greater knowledge of the culture of the English-speaking world. Students, throughout their time at the school, have the chance to participate in different exchange programmes in the United States and the United Kingdom in order to improve their listening and speaking skills and to learn more about the cultures.
Official Exams in the Británico de Aragón
At the British School of Aragon, English is much more than a second language. It forms a part of the students' life and their environment, becoming a first language for them.
To achieve this, we work all the different facets of the language so that students are constantly improving their speaking, grammar and writing skills.
And to validate the level achieved through our bespoke teaching methodology, students sit the Official State Exams in order to obtain an official certification for their future benefit.
As an Official Preparation Centre for Cambridge English Assessment, we prepare our students to take the exam in our own school:
Starters: year 2 primary
Movers: year 4 primary
Key English Test for schools: Level A2 in year 6 primary
Preliminary English Test for Schools: Level B1 in year 2 secondary
First for Schools: Level B2 in year 4 secondary
Cambridge Advanced English: Level C1 throughout sixth form. And in some cases Proficiency, Level C2.