MEET THE PUPILS
Educational project
Our innovative educational project "Pupil's Profile" defines what the British School's pupils are like at the end of their schooling here. It guides our methodology every day, and keeps us "in contact" with the 10 key points agreed between pupils, teachers and families.
We sow the seeds in Infant School
A decisive, marked education in the English language with native teachers, surrounded by affection, stimulation and comfort.
We help them to grow
We support them and build their character and personal development, based on strong self-confidence and a feeling of belonging.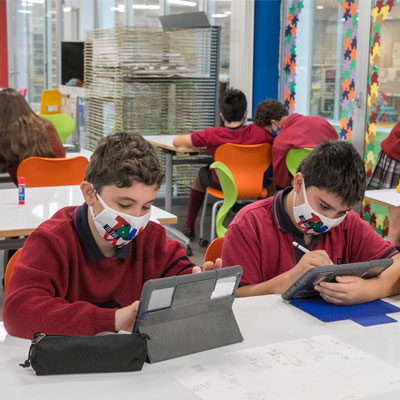 We consolidate habits
Hand-in-hand with them we forge a way of living and working in teams, without forgetting the personal effort and the strong, determined will.
The final result
Polite, respectful and socially committed people who are well-prepared for this competitive world.
I face up to and build my life positively, having self-confidence and the right amount of self-esteem. That helps me value my achievements, others' achievements and to establish good social relationships.
I better myself everyday, I never stop learning I tackle challenges enthusiastically and think critically, without mistakes being frustrating, being another reason to better myself.
I am committed to democratic and social values, which is why I want to contribute to natural and social improvement.
I aim to make and encourage a better world through autonomy, respect and responsibility, adapting to change in a creative, innovative way.
I am ready to lead my own career, being aware of my strengths and weaknesses, attempting to better myself, being capable of dialogue and teamwork.
I am very capable In a wide range of situations, calling on my high academic and cultural level.
I am an effective communicator, I put my ideas across clearly and concisely, thus favouring a connection with others.
I know different languages, and through them, different cultures and this helps me to get on in a global world.
I look after my physical and mental health, that is why sport and art are essential in my life. They are a permanent reason behind my personal development and enjoyment.
I am ready to set up my own change agenda, in relation to technological innovation and artificial intelligence, based on knowledge and responsibility.