Official Exams in British School of Aragon
With the importance of our school's educational project as the starting point, based on quality teaching, and with promoting the learning of the English language to the maximum as one of the main education principles at the school, we prepare our pupils for a future where foreign languages are indispensable.
Bilingual Education
With more than 45 years, the British School of Aragon is a pioneer in bilingual education . Education in several languages allows students to be trained in a more global and international world. In this regard, English is the language that opens the most doors to the labor market.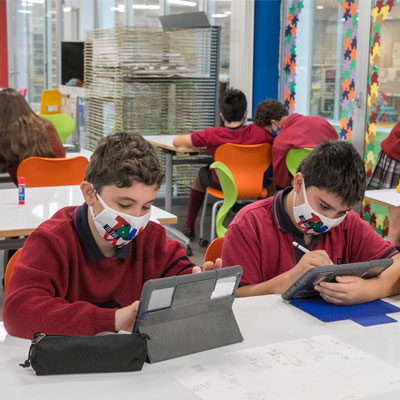 Better Opportunities
We believe that preparing our pupils is fundamental so that they are capable of integrating and participating in a variety of situations to stimulate their development and provide them with the best opportunities in their personal, social, academic and occupational lives, in at least two foreign languages; English as the compulsory option from Infant School age and French or German from Year 1 Primary; both taken through to Sixth Form.
In order to achieve our educational objectives in terms of foreign languages, the main line of action throughout the academic year is based on applying a communicative method where interaction in the use of foreign languages and motivating activities including practice inside and outside the classroom are promoted and encouraged: learning based on projects, cooperative learning groups, service learning, story-telling, theatre… all in English and French or German.
And finally, we prepare our pupils for external exams within the Common European Framework of Reference for Languages, so that they can verify the level they have acquired as they acquire it as a motivation factor.